I enjoy being a plant mom, but sometimes I wait to water my plants until there are cracks in the soil yelling, "Water, please! Must. Have. Water." I'm the same way with reading. I tend to read like a crazy person when my life is need of serious guidance. I have finished two books in two weeks, so it is safe to say I am in one of those seasons.
I recently had the pleasure of starting in on a book by the very talented Lysa Terkeurst, in which she challenges the reader mid-way through the book to honestly answer the question, "Who am I?". She encourages the reader to think back to a younger version of themselves. A time before they started looking to others for validation.
I sat quietly, sifting through brain catalogues of memories. Surely, there's something in here I can use, I thought. I worked my way backwards through all the years of my life and found myself all the way into my early childhood. I realized even then I worked hard to get good grades because if I was not smart, then where was my value?
I kept digging and eventually, I found her. The version of me that didn't know I needed to care. Here she is wearing horizontal stripes and ill fitted pants, wearing a two piece while holding a whole bucket of candy, and striking a pose that shows off a whole thigh!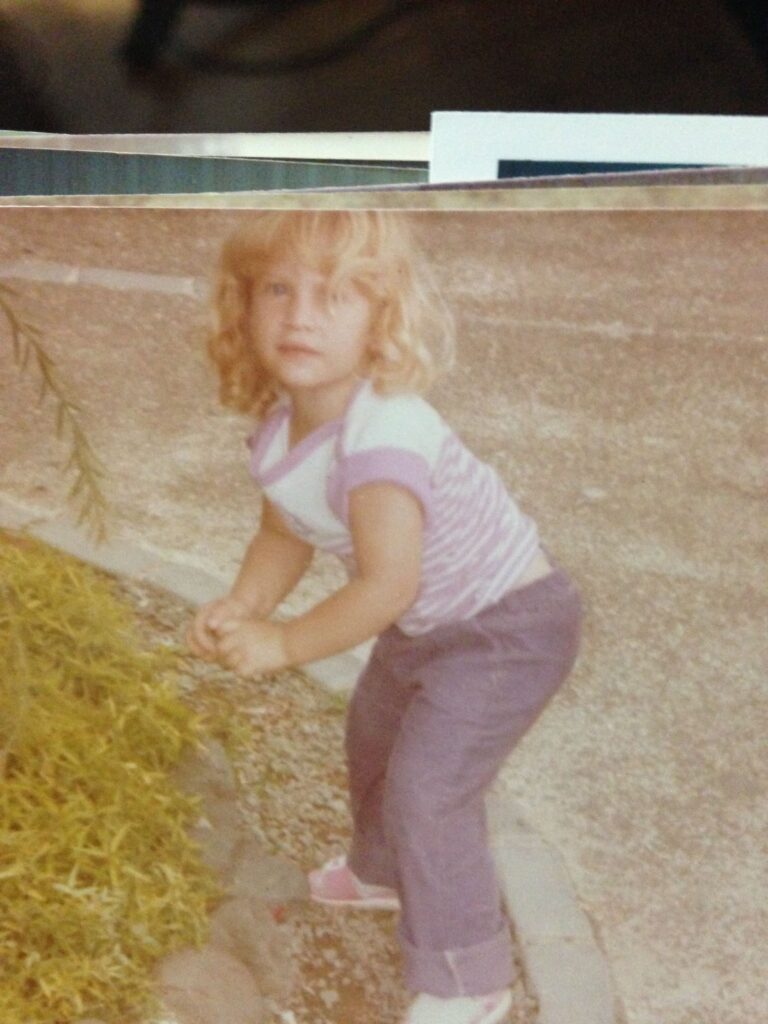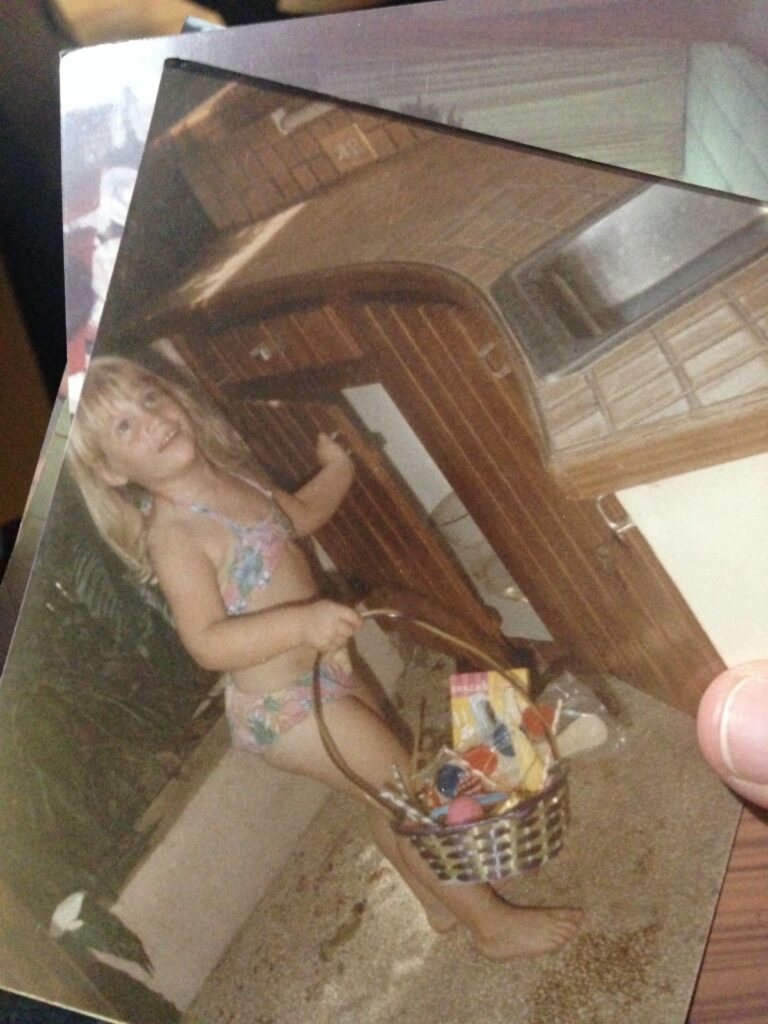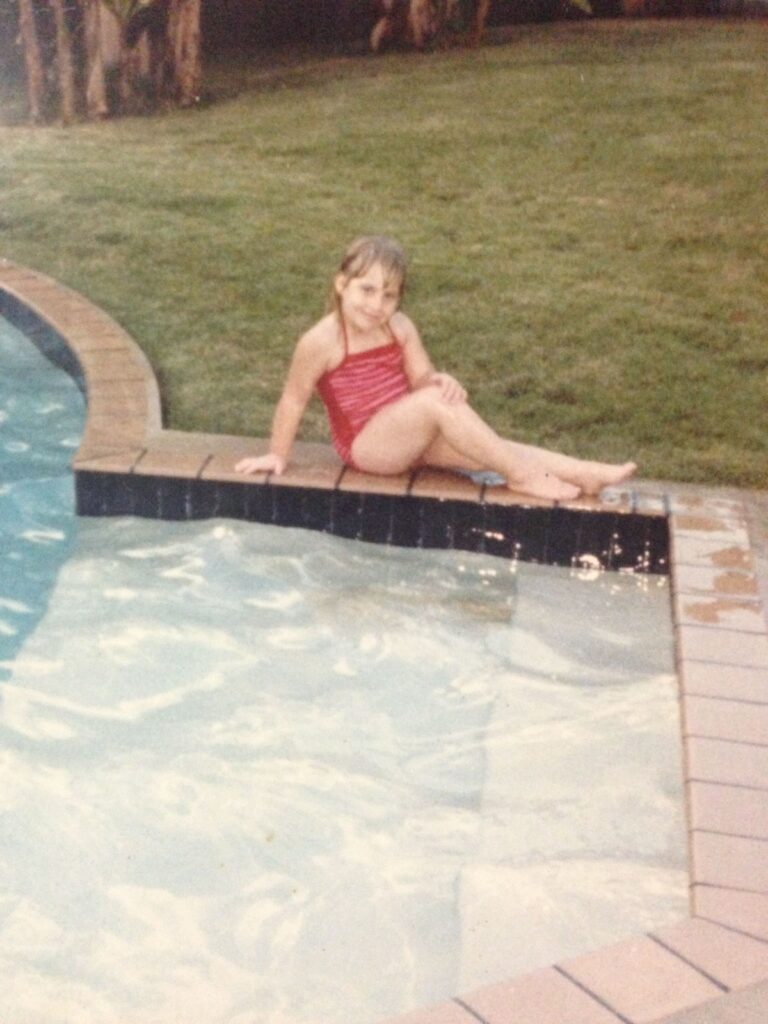 Here is what I would go back and tell this sweet, little girl if I had the opportunity.
Baby girl, there is a whole lot of life coming your way. Parts of it absolutely beautiful, and parts of it really, really hard. Here is what I need from you. I need you to remember who you are through all of it. First and foremost, you were created by a God who has never, ever come up short. God did not accidently leave out some valuable part of you. He made you sufficient, valuable, and worthy of love right from the start.
You are BEAUTIFUL. Now, listen to me. As you grow, some jacked up combination of environment, genetics, and metabolic issues are going to affect your outward appearance. You will not be the same size as your friends or even your siblings, and the world will make it it's JOB to remind you of this every single day. Even those who love you and mean well, will remind you that you don't fit society's standard of beauty. This will all set in as early as elementary school, and it is in this space that you will begin to want to achieve, help, mother, love, defend, and serve people in the hopes that someone will re-assign to you the worth you THINK you lost the moment you understood that you were fat.
The thing is, there is not a single human being on this earth that can re-assign to you the value that God said was yours before you ever even tried to earn it. It was never lost. Aside from that, you are smart, you are kind, you are full of light and a joy that so many people will need you to share. Here's the thing though, you are responsible for protecting your light and your joy. You are responsible for ensuring that nobody climbs in through the windows of your heart and re-arranges the furniture so much that you no longer feel at home in your own soul. That's your job. These are called boundaries.
You will love and crave the warmth of family traditions, but you will also love deciding to do something fun on a whim just because! You will live in music and love to sing. You will gain skills in an amazing career and get to help other people every day. Spoiler alert, you will be a pretty darn good momma to an amazing little girl, and the love you feel for her will grow you into a woman you will be proud of. She will help you find your brave. Hold on tightly to who you are. Take care of and honor your body. You CAN enjoy movement in a bigger body. You can dance and play sports with the other kids. You are going to want to decide that your body is "bad" and not worth paying much attention to. Don't do that. It will only take what was originally just a difference in "build" and make it a much bigger health issue that will try to define your whole life. You will know love, brokenness, and strength. It will take a ridiculously long time, but eventually, you will SEE your beauty again and figure out how to love others without losing yourself. You are going to be JUST FINE! Now, go eat all that candy. That booty isn't going to build itself. 😉 Love, Your Future Self.
Remembering who you are is key in remembering who you AREN'T. Have you ever sat down to reflect on this? It has been so healing for me. If you haven't done this yet, let me help get you started. You aren't the kind of person that needs to beg for affection. You are amazing, strong, capable, whole and worthy of love. We are all a little broken. Find the areas you need some work in and learn, do better, grow, mature! There are people counting on you to be the version of yourself God intended you to be! Hugs, Melb+