For as long as I can remember, my beach or poolside attire consisted of many, many layers. It was complicated, hot, and obnoxious. Now sometimes, the layers were purposeful. Under the sun for any amount of time, I burn like a lechon at Christmas time (Puertorican reference). Sometimes, I enjoy a cute wrap or cover for the style and modesty it may add. I am okay with that, but if I am honest, more often than not the layers were a way to cover a body I have long been ashamed of. Below is a picture of my daughter's first trip to the beach. I am wearing a bathing suit, shorts, and a cover-up.
What sticks with me when I see these images is not how I looked. I could have enjoyed that moment with her wearing a paper bag had I decided to do so because it wasn't about fashion or style that day. That moment was about my baby girl! What I remember, however, are the THOUGHTS I had about how I looked and how those thoughts affected the beauty of the moment.
In the years following, I decided to go to work on how I feel about my body. It has been a difficult, long journey with many bumps (okay more like ginormous mountains) in the road, but I am starting to feel and see a difference in how I view and love myself. I have since decided I deserve to go to the beach or pool as comfortable as any other woman. Enter swimsuit shopping…dun, dun, dun…….
I paid Torrid a visit and saw it. A high-waisted two-piece. Could I do it? Nahhhhh. No way. Buuuuut maaaaaybe? Ok, I'll try it on, I thought, but I am NOT gonna buy it. Okay, I'll buy it, but I'm NOT gonna wear it in public. With some love and encouragement from the sweetest, dearest friends a girl could ask for and my sister, I am happy to report, I tried on, purchased and WORE in public said high-waisted two-peace.
There I am. In public. Guess what? The world didn't implode. Nobody pointed and laughed. My daughter told me how beautiful my new bathing suit was and that was that. We played and enjoyed some lovely pool time. I swam, we laughed, I read some of a book and enjoyed the warm sun. Turns out, me being fat is not that interesting to the whole of humanity. Go figure.
Through this blog, I have met so many other women on the same mission to accept the whole of who they are. @ByLaMaika over at lamaikashop.com is one of those women. I am half Puertorican and so enjoy her zest for life and Latina vibes. Right on the front of her website, it says in Spanish "In order to enjoy outdoor activities you don't need to be a specific size or weight. Rather, what is required is a certain attitude, self-love, and the use of accessories that make you feel comfortable, pretty, and happy." I immediately purchased a beach towel that says "AMO MIS CURVAS" aka "I LOVE MY CURVES" as a reminder to myself that curves and lines don't define! La Maika, I hope I nailed the attitude today! Thank you for being such an inspiration. Ya'll go over to her shop and check out her adorable summer fun accesories. Shes brand new and going places for sure!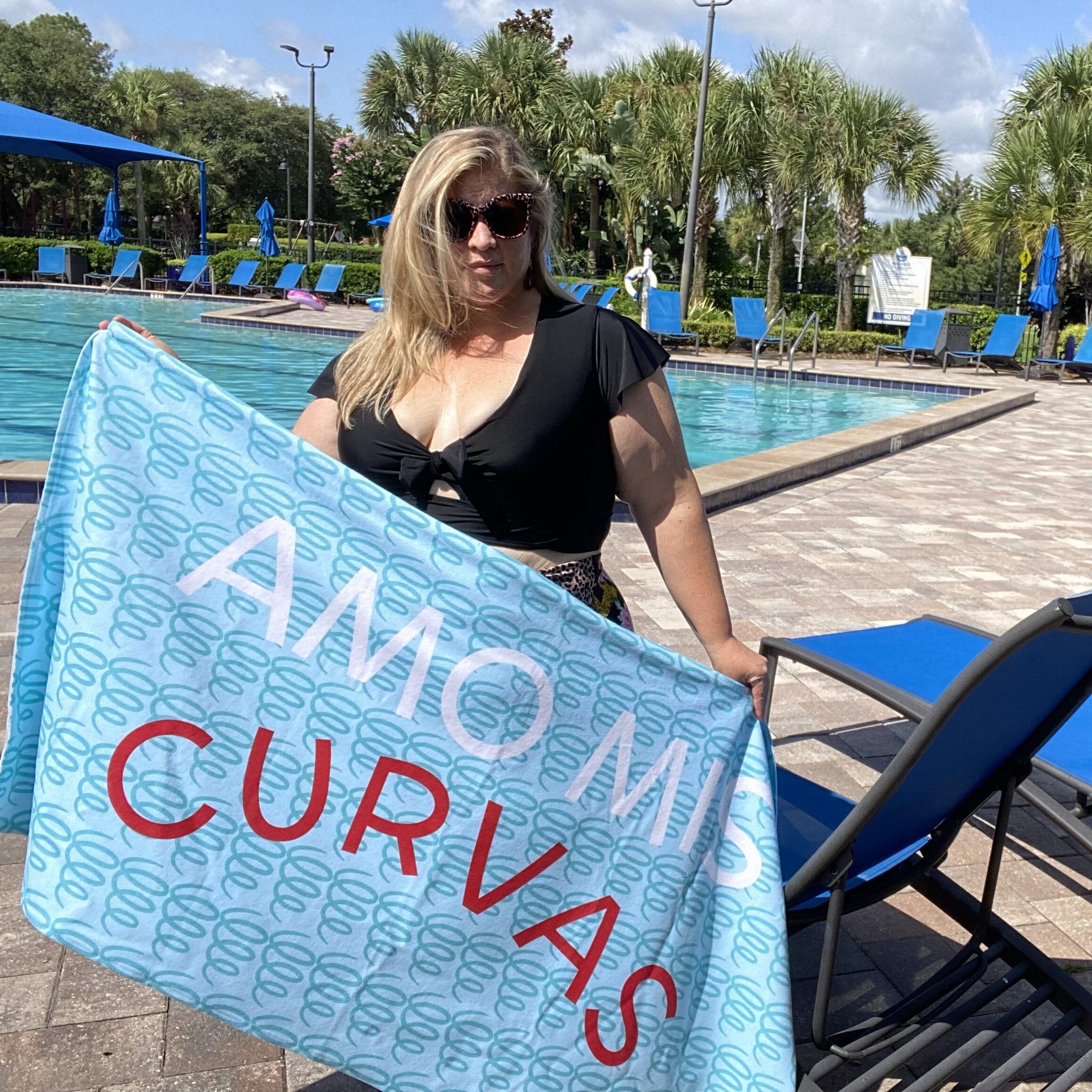 Your body is good. Your body is not a project. You deserve to enjoy the beach and the pool and any other bodies of water you can get to! Oh, why did I title this post "Wildflowers"? I just finished a book called "The Well Watered Woman" by Gretchen Saffles. What a huge blessing this book has been. Towards the end she talks about wildflowers. Their beauty, their often misunderstood purpose in our eco system, and how people are so much like wildflowers. She wrote, "Thousands of wildflowers blossom every year and are never seen, admired or enjoyed by anyone but God. They just do what they were created to do. Their mission isn't to be recognized, applauded, or rewarded; their mission is to grow, drop their seeds, and do thier small part in the bigger picture of creation. They don't compete or strive to be taller or more beautiful than their fellow wildflowers. They simply do what they were meant to do."
Hugs,
Melb+